Hamana Kalili: Originator of the Shaka Sign
No matter where you go in the world, if you talk with a surfer, they may throw you what's commonly known as a "shaka sign" as an act of friendliness, good will, or respect. But where did this sign come from? In the 1980s, it was a question of hot debate in the Honolulu Advertiser newspaper, and in the time since, many have wondered about its origins.
As a college student in Provo, Utah in 2002, I happened to meet an elderly woman that had lived most of her adult life in the little community of Laie, a small village on the eastern side of Oahu, Hawaii. She and I would sometimes stay up late into the night talking at her kitchen table, and I would often ask her about life in Laie in older times, before it was overdeveloped and crowded like it is today. One story that she told me—about the origin of the shaka sign—stood out, and it was compelling enough to look into further. Over the course of the following years, I visited archives, interviewed old-time fishermen, and slowly put the various pieces together. This book, A Summary of Facts and Anecdotes About The Life of Hamana Kalili: Orginiator of the Shaka Sign, is the compilation of what I found.
Biographical Overveiw
Hamana Kalili was a fisherman who lived in Laie, Oahu, Hawaii from 1882, when he was born, until his death in 1958. His parents were of Hawaiian ancestry—his mother, Kealalaina, being the daughter of Chief Kaleohano Kuakaha of Maui, and his father, Nahuina, being a Hawaiian commoner from the island of Hawaii. Hamana was the 13th child.
Kalili spent his entire life in the Laie area, working as a small-time commercial fisherman, occasionally as a laborer, and on a few occasions, as a construction foreman. He was married three times and had four children with his first wife. At some point before 1917, his right hand was disfigured in an accident, and he is known outside of Laie today because of the way people imitated what became his familiar wave, which consisted of the thumb and little finger extended and the three middle fingers folded down (or, in his case, missing).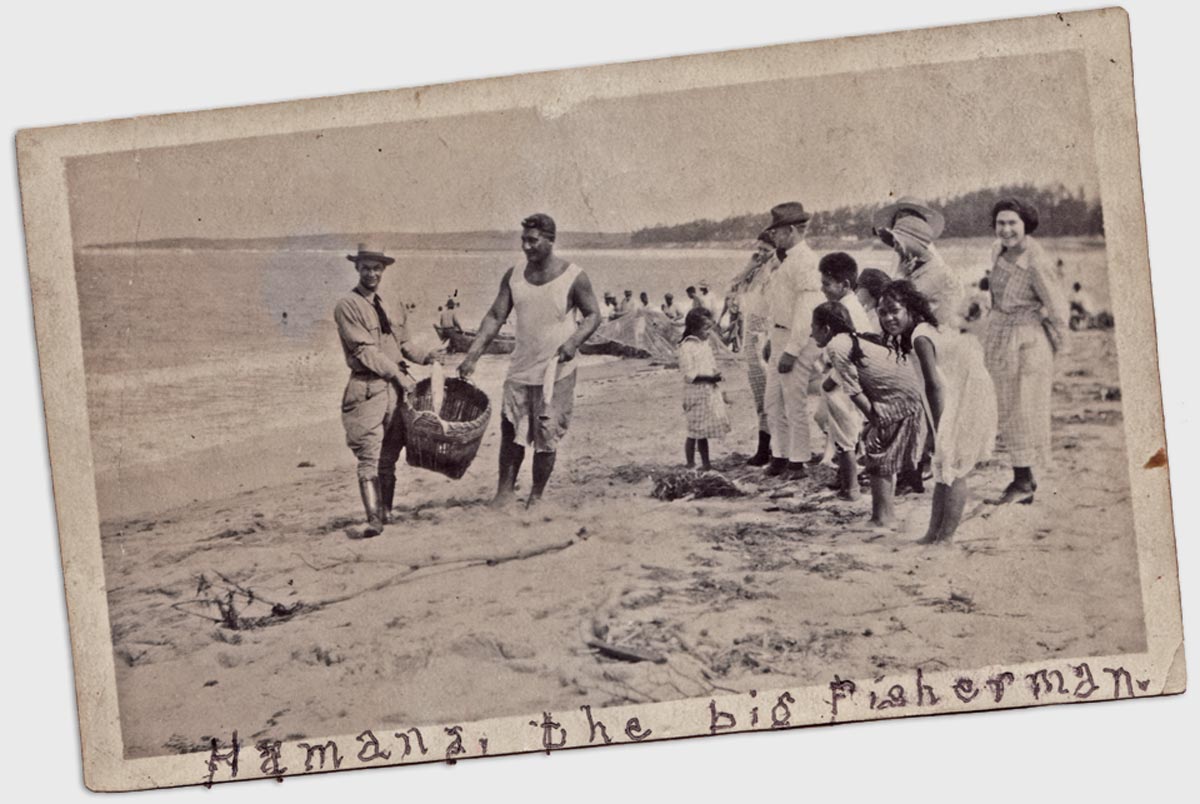 Hamana Kalili (second from left) fishing at Laie Bay. From the journal of Thalia Butler. 1921.
Photograph courtesy of the Joseph F. Smith Library Archives and Special Collections, Brigham Young University Hawaii
In Hamana's later years, he was involved with his church, was a key figure in the hukilau fundraiser events that the congregation put on for tourists, and continued fishing for a living. He was diagnosed with cancer sometime in early- to mid-1958. On December 17, 1958 he went to the dedication of the newly-constructed Church College of Hawaii, which was a monumental step in Laie's history. Following the dedication, he went home and laid down to rest, and later passed away sometime during the night.
Hamana's Legacy
During his lifetime, Hamana Kalili was one of the early players in the hukilau shows that the Laie community held to raise money for their local church, and which later grew to become the Polynesian Cultural Center a couple of decades later. He also had two sons who were Olympic silver medalist swimmers, and he taught several young men in the community the his traditional fishing practice, which continues to get passed down today.
The "shaka sign," as it came to be called, was initially used by kids in the community for a variety of purposes: to joke about the old man's disfigured hand, to warn of impending disciplinary trouble, and to wave to each other as a sign of being from the same local community. By most accounts, the Kahuku football team, virtually unbeatable even to this day, took it around the island as the players used it on the field. It was further popularized by local TV personality "Lippy" Espinda and, later, by mayoral candidate Frank Fasi, who used the sign as part of his highly-successful campaign identity.
As surfers from California and the mainland visited the North Shore and Oahu in the 1960s and 1970s, they carried artifacts of their Hawaiian experiences home with them, including: Chinese slippers (AKA "flip-flops"), boardshorts, aloha shirts, and the local hand gesture known so well around Oahu. By the mid-1980s, any kid with a skateboard and a surf brand t-shirt could make the hand sign as a way to complete the picture. In general, the gesture means "Right on!" with nuance added by the way it is delivered. Today, most surfers use the sign with a bit of irony, but the positive meaning still persists.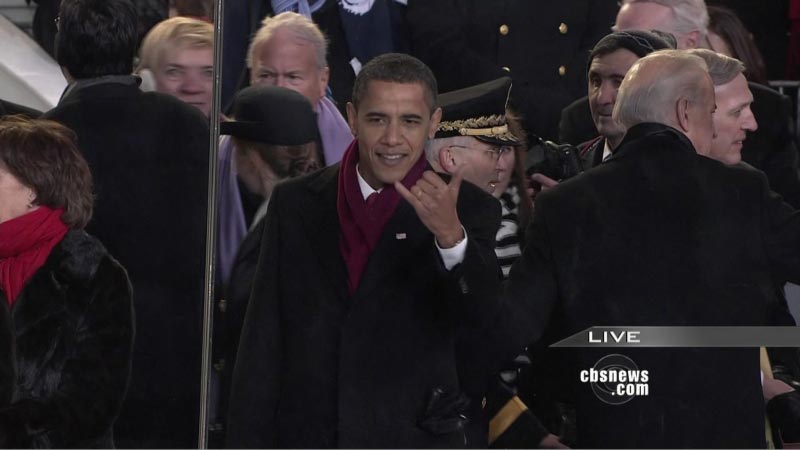 President Barak Obama at the 2009 Inauguration. Courtesy CBS News.
The Book
My writing about Hamana Kalili started in the summer of 2008, when I sent a small piece to The Surfer's Journal, and which was published in Volume 17, Number 6 of the magazine later that year. After publication, I began researching the topic more intensely, interviewing old-time fishermen and residents from Laie, talking to renowned surfers, and spending hours upon hours in various archives. I've compiled the research into a history of a remarkable person, and one that also tells a story of a place, a culture, and a community. The book is currently in draft form, pending revisions and editing.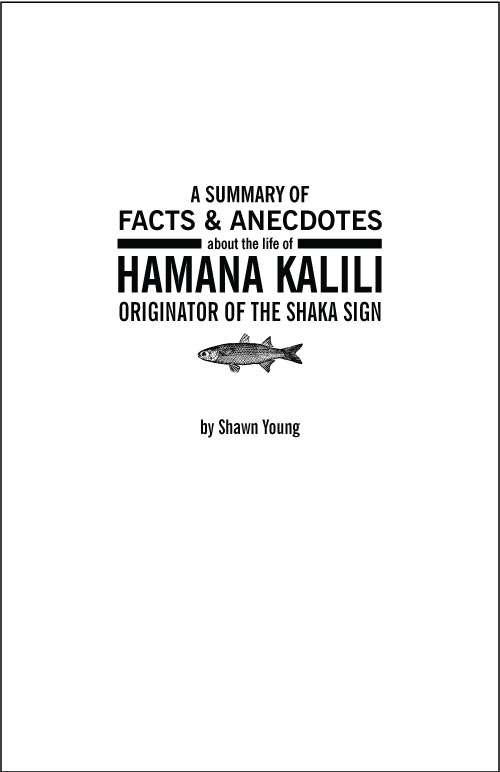 More Information
For more information about A Summary of Facts and Anecdotes About the Life of Hamana Kalili: Originator of the Shaka Sign, reach out to me by email and I'll be happy to talk further.
Last revised on Tuesday, July 3, 2018.
Related
External Links