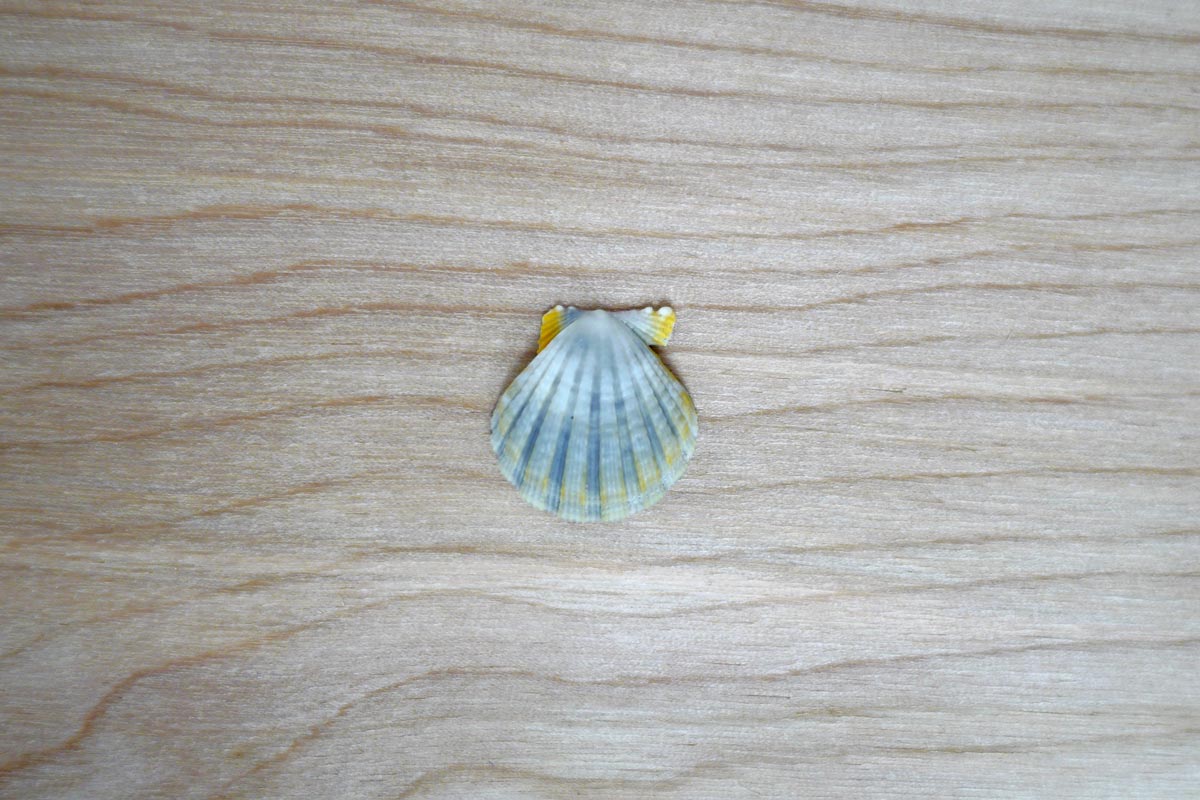 Rare Blue Hawaiian Sunrise Shell
$400.00
A single, very hard to find blue Hawaiian sunrise shell. Hand picked in waters of approximately 100 feet of depth near Pupukea on the North Shore of Oahu.
This one-of-a-kind shell features exceptional symmetry and an elegant, peaceful, and highly uncommon blue-grey overall color. The front features a distinctive yellow ring and yellow highlights on its wings. The back of the shell is a deep pewter grey with a touch of brilliant red along the margin of the hinge area. All of the structures of this shell are pristinely intact and free from damage. The shell's undamaged state, along with its highly unique and unusual color qualities, make it an exquisitely sought after item for the center of a jewelry piece or a private collection.
This shell was found in a natural, discarded state, mixed among rubble and sand in ocean waters. No live animal was harmed in the procuring of this specimen. Furthermore, it was sourced directly from the independently-employed diver that found it, with no other middlepersons involved in the supply chain prior to its appearance here on the market. This is a shell that is very close to its Hawaiian provenance, and still holds great mana through its origination.
About Sunrise Shells
Sunrise shells are produced by a species of scallop that is endemic to the Hawaiian islands. These distinctive shells are found nowhere else in the world. Historically and through the mid- to late-2000s, they were considered very rare, until a select group of local surfers and adventurers on Oahu's North Shore began exploring deep water dive spots that they suspected sunrise shells to accumulate near. Since that time, sunrise shells have become more common, though highly distinctive specimens like the one featured on this page still remain very hard to find, and relatively few people outside of Hawaii know of their ecological, geographic, and cultural significance.
Purchase Information
Your purchase will be made quickly, securely and conveniently through PayPal. This item will be carefully packaged and shipped on the next business day after your order is received. Shipping is by USPS Priority Mail and delivery is typically in 2–3 days from ship date. You'll receive a tracking number by email shortly after your order goes out. Shipping to any standard location worldwide is included in the price of the shell.
A donation of 5% of the purchase price of this shell will be made to the North Shore Community Land Trust, which acts to protect coveted open space and agricultural land on the North Shore of Oahu.
This shell can be made into a wire-wrapped pendant upon request. Choose sterling silver or 14k gold wire and 18" or 24" matching chain.
Additional Images
The images below show the shell from a variety of angles and in varying light conditions in order to fully depict its color and other characteristics. Additional items shown in the photographs are used for size and color comparison only and are not included in the sale.
If you have further questions about this item, please contact me directly.