Design Background
My interest in graphic design began in the late 1980s, developing from the media surrounding skateboarding, BMX freestyle, surfing, and underground rock music of that time. In these things, I found a DIY aesthetic that was efficient, disruptive, and exciting, and I began to see first-hand how design could not only build emotional connection with brands, but also enhance the aesthetic of non-tangible things, like music.
I made my first 'zine in 1987 at the age of 15. At age 16, I took my first photography and darkroom methods class, and then took an advanced class in the following year. I also took my first video production class. In the summer after my junior year of high school, at age 17, my father helped me to get a job with a local sign company. I spent the next year making silk screens, doing truck lettering, metal leafing, painting, and asking a lot of questions.
In the years that followed, I remained interested in design and continued to create, but pursued a wide range of interests that included art history, philosophy, psychology, and sociology. In 1995, after traveling outside of the country for several years, I began learning HTML. In 2000, I took web development and graphic design classes as a foil to the abstract and technical nature of the undergraduate degree in chemistry that I was pursuing. Apart from my studies, I created logos and brand collateral for a rowing club that I started, and also developed websites for businesses and organizations that I was involved in. While in graduate school in Oxford, England, I worked at a local company and created logos and graphic materials for the University's rowing teams and other sports clubs.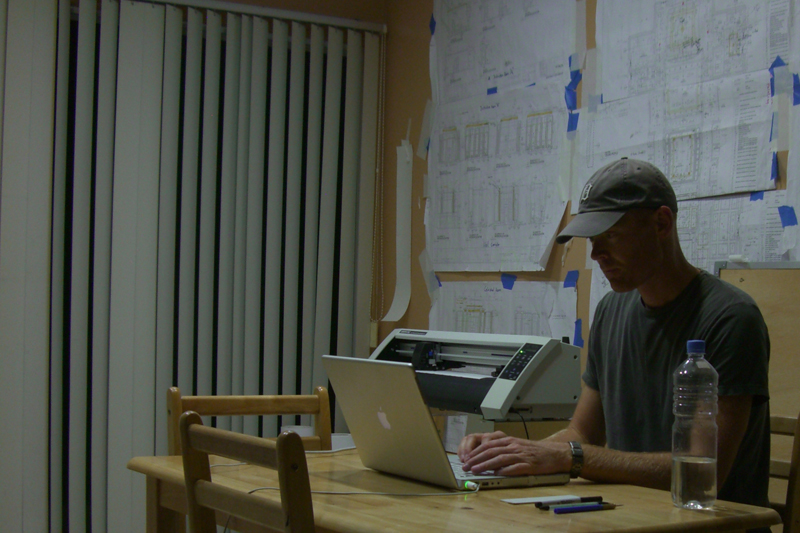 Working abroad. Cebu, Philippines. January 2010.
In 2008, I left a full-time job and spent the spring and summer traveling around the southwestern United States before settling for a short while in California. It was at this time that a sort of nomadic, economically-independent lifestyle was really becoming possible on a wider level, with wi-fi Internet access at public libraries and coffee shops, and I began to develop my freelance design practice full-time as a way to have complete ownership and autonomy with my work schedule. I spent several months living in a van in Ventura and Cardiff, CA, adventuring east into the mountains and desert, and taking occasional trips into Baja California. In late 2008 and early 2009, I took a trip to Hawaii to work on a special project, and then took my work back to the Washington, DC area, using that location as a home base for several years after.
Over the years, I've had the opportunity to work with a wide variety of small business clients. My favorite projects have been active lifestyle brands that have been able to significantly increase revenues by improved online presence and brand alignment. For the most part, this work has taken the form of website development, but I've also provided photography, videography, logo design, copywriting, and consulting services in the mix. I've found that this type of coherent, wholistic approach gives the best results for small companies in the end.
To discuss how your business can raise its bottom line through more intentional presentation, better brand alignment, and a more fulfilling customer experience, contact me and we can set up a time to talk.